Whether you're conducting research on plant life, performing field studies, or maintaining landscapes, choosing environmentally friendly equipment is crucial for promoting sustainable practices. Traditional tree care equipment, such as gas-powered chainsaws, trimmers, and woodchippers, can have an impact on the environment. However, by switching to hybrid tracked lifts, arborists and tree care professionals can significantly lower their carbon footprint and contribute positively to landscape preservation.
Environmental Benefits of Using Tracked Lifts
Tracked lifts offer numerous advantages that make them an eco-friendly choice for tree care:
1. Carbon Emission Reduction
Tracked lifts, especially electric and hybrid models from manufacturers like Platform Basket and OMMELIFT, significantly reduce carbon emissions compared to gasoline and diesel-only equipment. By opting for these cleaner alternatives, arborists can work on assignments with the peace of mind that they are helping to reduce air pollution.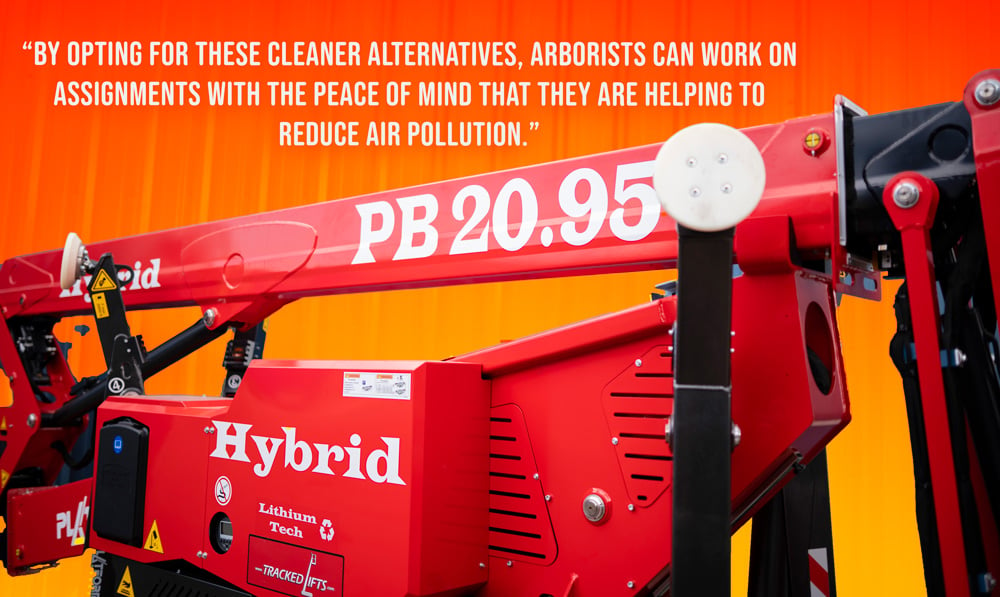 Almost all of our models have the ability to custom order as hybrid or electric-only machines, but these are the models that currently come standard with hybrid power:
2. Minimal Landscape Disruption
Our tracked lifts are equipped with rubber tracks and feature low ground pressure, which helps minimize disruption to the ground below while providing access to hard-to-reach areas without causing damage to plant life or sensitive environments. This feature ensures that tree care activities are performed in a way that leaves landscapes unharmed during setup and teardown, minimizing disturbances to lawns, gardens, flower beds, and other well-kept spaces
3. Surrounding Habitat Preservation
Working in complex ecosystems requires careful consideration. Tracked lifts provide the precision needed to work in these sensitive areas without interfering with the surrounding habitat of trees and wildlife. In doing so, arborists can complete projects of any scale while promoting biodiversity and environmental preservation, ensuring the protection of nesting sites and maintaining tree health among their various efforts.
Why Choose Tracked Lifts for Tree Care?
At Tracked Lifts, we prioritize your ability to perform tree care jobs at working heights safely and efficiently while minimizing your impact on the environment. Our inventory includes many tracked lift models with armored components and hydraulic systems within each boom, ensuring reliable and long-lasting equipment. With over 15 years of experience, we can connect you to trustworthy lifts made by Platform Basket and OMMELIFT, guaranteeing precise operation during every project you undertake.
---
Learn More About Our Tracked Multi-Terrain Lifts Today
The professionals at Tracked Lifts are here to help you select the right equipment for your specific applications. You can easily view our available products online and contact us through our contact form for further information.
By incorporating tracked lifts into your tree care practices, you can actively contribute to carbon emission reduction, landscape preservation, and the preservation of surrounding habitats. Embracing sustainable practices not only benefits your projects but also leaves a positive impact on the environment. Choose Tracked Lifts for eco-friendly tree care solutions that make a difference.