Back To Products
Platform Basket 33.15
Working Height:

107'

Outreach:

50"

Width:

55"

Weight:13,780 lbs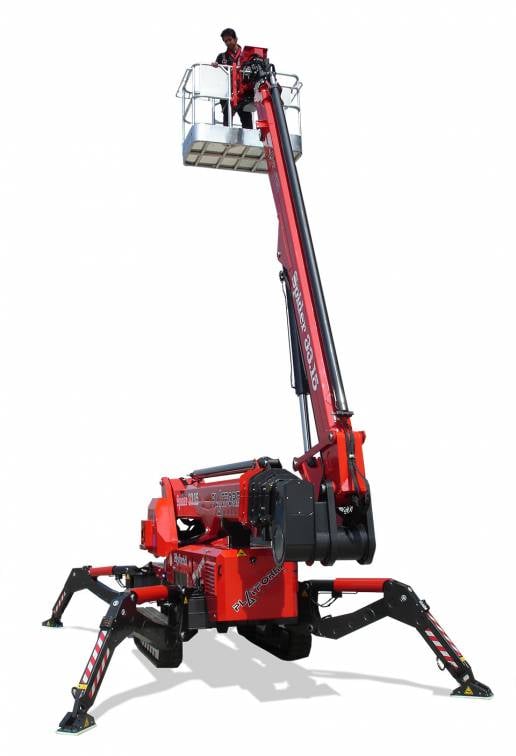 Product Overview
The Platform Basket Spider 33.15 is an articulated lift with telescopic booms featuring impressive ground clearance to overcome obstacles and a working diagram offering excellent performance. A self-propelled lift, it is ultra-compact and, in the stowed position, offers minimum width with the basket rotated.
The Spider 33.15 has an extendible crawler track undercarriage with an exclusive Platform Basket system that enables enhanced mobility when in the wide position and reduced height when in the narrow position.
Features
Overcoming obstacles at a height of 17m with lateral outreach up to 15m

Possibility to work up to 6m in negative through the double telescopic arm joint

Equipped with radio control for translation, automatic stabilization

Equipped with automatic reclosure in the transport gauge

Possible installation of large aerial nacelle (up to 2.20m)

Agile and stable on tracked undercarriage with variable width

Simple maintenance

Simple and intuitive on-board equipment

Super light and easy to transport

Air, Water, 220 V in the nacelle

Absence of external pipes
Specifications
Brochure
Chart
Specifications
Specifications
Max. outreach
50' (at 300 lbs)
Basket size
4'11" x 2'2" x 3'7"
Basket rotation
+ / - 90°
Turret rotation
+ / - 400°
Traveling height
6'6"/7'5"
Traveling width
4'7"/5'6"
Operational width
Outrigger spread - 10'1" / 21'10"
Diesel engine
Kubota Diesel, 22 HP
Gradability, max. across slope up
17°
Gradability, max. up and down slope
16°
Deployment ability on slopes up to
17°
Brochure

Chart