Back To Products
OMMELIFT 2650 46kV
Working Height:

86'

Outreach:

40'1"

Width:

44"

Weight:13,400 lbs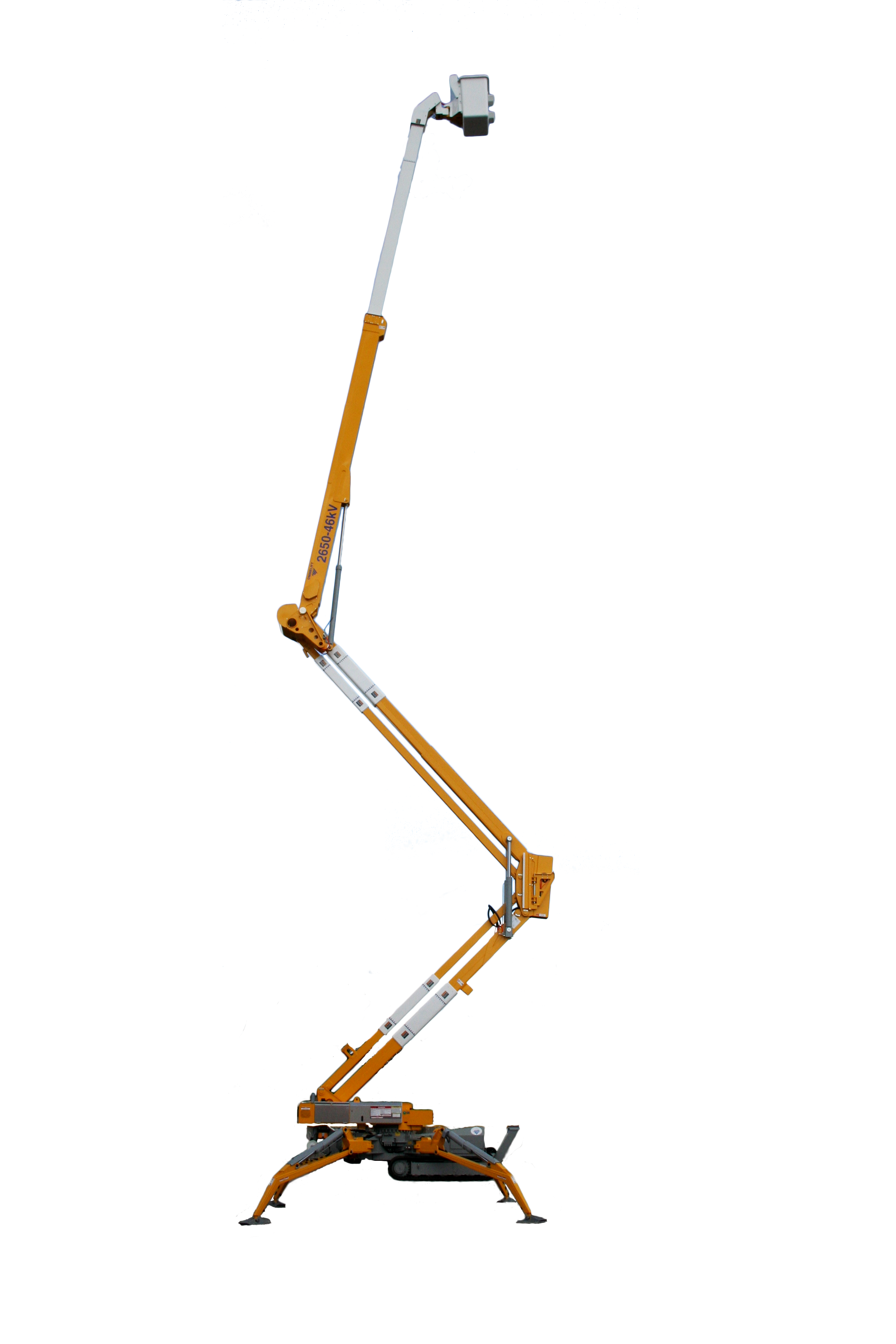 Product Overview
The Tracked Lifts OMME 2650 46kV is ANSI A92.2 compliant and is specifically designed and built to meet the needs of professionals in the tree work business, who has to work safely in close proximity to power lines. All booms are insulated with Waco fiberglass sections which enable safe and maneuverable work.
This insulated tracked lift has a working height of 86' and an unrestricted outreach of 40'1". A dual parallelogram articulating riser gives 42'7" up-and-over free clearance and provides vertical wall tracking. With the telescopic sections on rollers, there is no slide pad friction in telescopic movements, which ensures the same operation speed with full basket load in all positions. In addition, the basket rotates 180°giving greater access during jobs.
The OMME 2650 46kV standard version is a true diesel/battery hybrid with engine-generated re-charge of the battery pack. Battery power means no noise and no fumes. This lift has powerful off-road driving capability and a heavy-duty shield package. The stabilizers allow the machine to be set up on uneven levels up to 40% (21.8°). Simple and intuitive, the multi-function lift operation from the radio controller makes operator instruction easy and allows them to work quicker.
Features
True Hybrid System Battery/Diesel Power
ANSI/SAIA A92.2 Compliant
Stabilizer Indicators Inform Safe Set-up
3 Boom Insulated Areas
Powerful Off-Road Driving Capability
Low Ground Pressure Minimal Turf Impact
Variable Width Undercarriage
Variable Outrigger Positions

Permanently Fixed, Large Bearing-Area Stabilizer Foot Plates
Easy Basket Access
180° Basket Rotation
Hydraulic Circuit for Saw Hookup
Extensive Horizontal Reach
Robustly Built
Heavy Duty Shield Package
Specifications
Brochure
Chart
Specifications
Specifications
Basket rotation
+ / - 90°
Turret rotation
+ / - 355°
Traveling width
4'11" / 3'8"
Operational width
17'5" / 15'1"
Diesel engine
18.5kW / 24.8HP
Gradability, max. across slope up
35% / 19.3°
Gradability, max. up and down slope
35% / 19.3°
Deployment ability on slopes up to
40% / 21.8°
Power Pack
Battery / Diesel / Hybrid
Brochure

Chart