Choosing the right tracked aerial lift for your business can provide a high return on investment (ROI) in several ways.
Increased Efficiency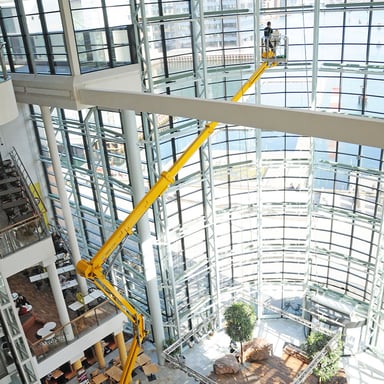 Having the right equipment for the job is crucial in maximizing efficiency and productivity. Tracked aerial lifts provide a versatile solution for a wide range of applications, allowing you to tackle a variety of projects with one piece of equipment.
By being able to handle tasks such as tree work, window cleaning, gymnasium light changing, stadium lighting work, cable/wiring installation, building sign hanging, Christmas light hanging, and large-scale power washing, (to name a few) you can take on more projects and potentially increase your revenue.
With the ability to perform multiple tasks with one piece of equipment, you can save time and resources by not having to switch between multiple pieces of equipment. This increased efficiency can also lead to faster project completion, resulting in a better reputation for prompt and effective service, and potentially attracting new business.
Ultimately, investing in a versatile tracked aerial lift can be a valuable addition to your toolkit, increasing efficiency, productivity, and revenue.
Reduced Downtime
Reduced downtime is a key factor in maximizing your return on investment (ROI) when using a tracked aerial lift. A well-maintained lift means less time spent fixing equipment and more time spent on actual job tasks.
When you have a lift that operates reliably and efficiently, your crew can focus on the job at hand, instead of worrying about equipment malfunctions or breakdowns. This can result in increased productivity, which in turn can lead to higher profits and improved ROI.
Additionally, by reducing downtime, you may also be able to take on more projects or bid for larger jobs, further increasing your potential for financial gain.
Overall, investing in a high-quality tracked aerial lift with a strong reputation for reliability and low maintenance requirements is a smart decision for anyone looking to boost their ROI.
Increased Versatility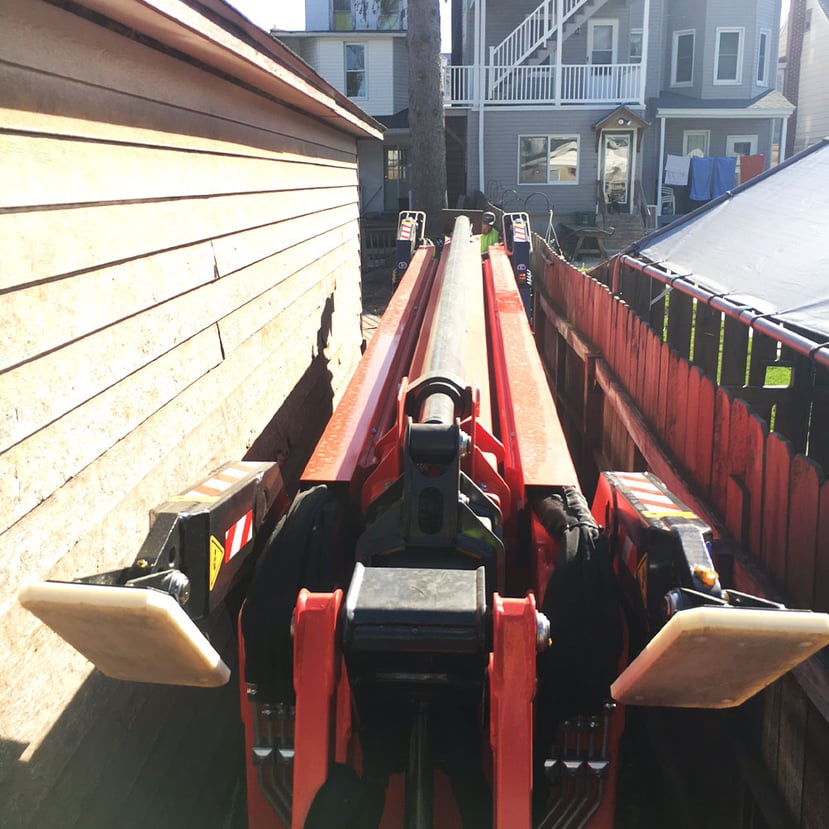 Tracked aerial lifts that are versatile and can be used in a variety of applications can allow you to take on a wider range of projects and potentially increase your revenue. Many of our models are compact (under 36 inches wide in transport mode) and have low ground pressure, allowing the lift to fit through a standard-sized door. These aerial lifts make once inaccessible areas possible to reach. Here is a list of models that are compact enough to fit through a standard 36-inch door.
With side reach capabilities of up to 50 feet on some models, tracked aerial lifts provide even greater versatility for your job site. This feature allows you to get to those hard-to-reach spots by going up and over obstacles, enabling you to tackle projects that would otherwise require multiple pieces of equipment. This can save you time and resources, increasing efficiency and allowing you to complete projects more quickly. The added side reach also opens up new opportunities for work, enabling you to take on projects that you might otherwise have to pass on. Overall, the combination of versatility and extended side reach makes tracked aerial lifts a valuable addition to your job site, providing the flexibility and capability you need to get the job done right.
Reduced Equipment Costs
Tracked aerial lifts that are durable and require minimal maintenance can help reduce equipment costs over time. This, in addition to the various application possibilities, can help increase your profits and overall ROI.
Tracked aerial lifts are designed to withstand the toughest job sites and last for many years. They are made with high-quality materials and advanced engineering to ensure durability and efficiency. This not only reduces the need for frequent repairs and replacements but also helps you save on maintenance costs. In fact, there are users who purchased our tracked lifts in the 1990s that are still in active use– these machines are truly built to last with proper maintenance.

For instance, with a tracked aerial lift, you won't have to worry about replacing wheels and tires frequently as you would with a traditional boom lift. The tracks provide a much more stable base and can easily handle rough terrain, reducing the likelihood of damage or wear and tear.

Additionally, if you do need to replace any parts, we have a fully stocked parts warehouse at our headquarters in Pennsylvania that can quickly provide you with the necessary components. Our warehouse has a vast selection of parts, including everything from filters to electrical components, to ensure that your equipment stays in top working condition.
Not only does a tracked aerial lift offer reduced equipment costs and low maintenance requirements, but it is also competitively priced in comparison to other aerial equipment. With its many benefits, a tracked aerial lift provides a cost-effective solution that doesn't compromise on quality or performance.
Increased Customer Satisfaction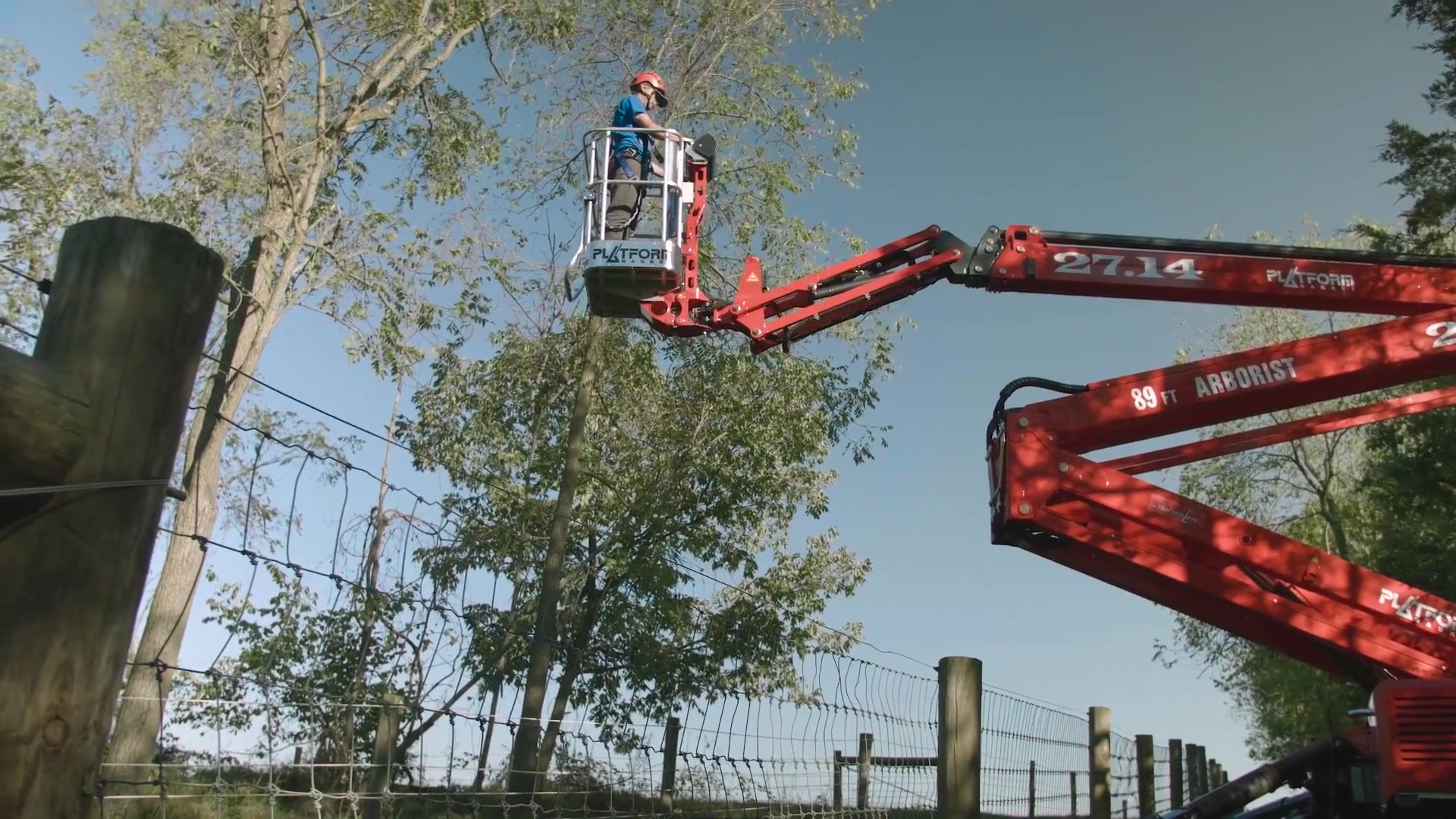 Using reliable and high-quality equipment can help you deliver top-notch service to your customers, which can lead to increased customer satisfaction and potentially more business in the future.
Customer satisfaction is the key to success in any business, and the quality of your equipment can play a major role in this. By using a Tracked Lift, you can ensure that you are delivering the best possible service to your customers. With its durability, stability, and versatility, one of our tracked aerial lifts can handle even the most challenging job sites with ease, allowing you to complete projects quickly and efficiently.
The stability provided by the tracks also ensures that your workers can safely and comfortably complete their tasks, which can help reduce the likelihood of accidents and injuries. This not only protects your workers but also helps to reduce insurance costs and liability risks, which can further increase your ROI.
Additionally, the versatility of a tracked aerial lift means that you can tackle a wide range of applications, from pruning trees to cleaning gutters. This level of flexibility can help you win more contracts and expand your business. And by delivering quality service, you can establish a strong reputation and gain the loyalty of your customers, which can lead to repeat business and referrals.
---
By considering these factors and choosing a tracked aerial lift that meets your needs, you can potentially increase your ROI and overall profitability.