Back To Products
Platform Basket 72ft Arborist by Arborists
Working Height:

72'

Outreach:

34'

Width:

34.5"

Weight:6,900 lbs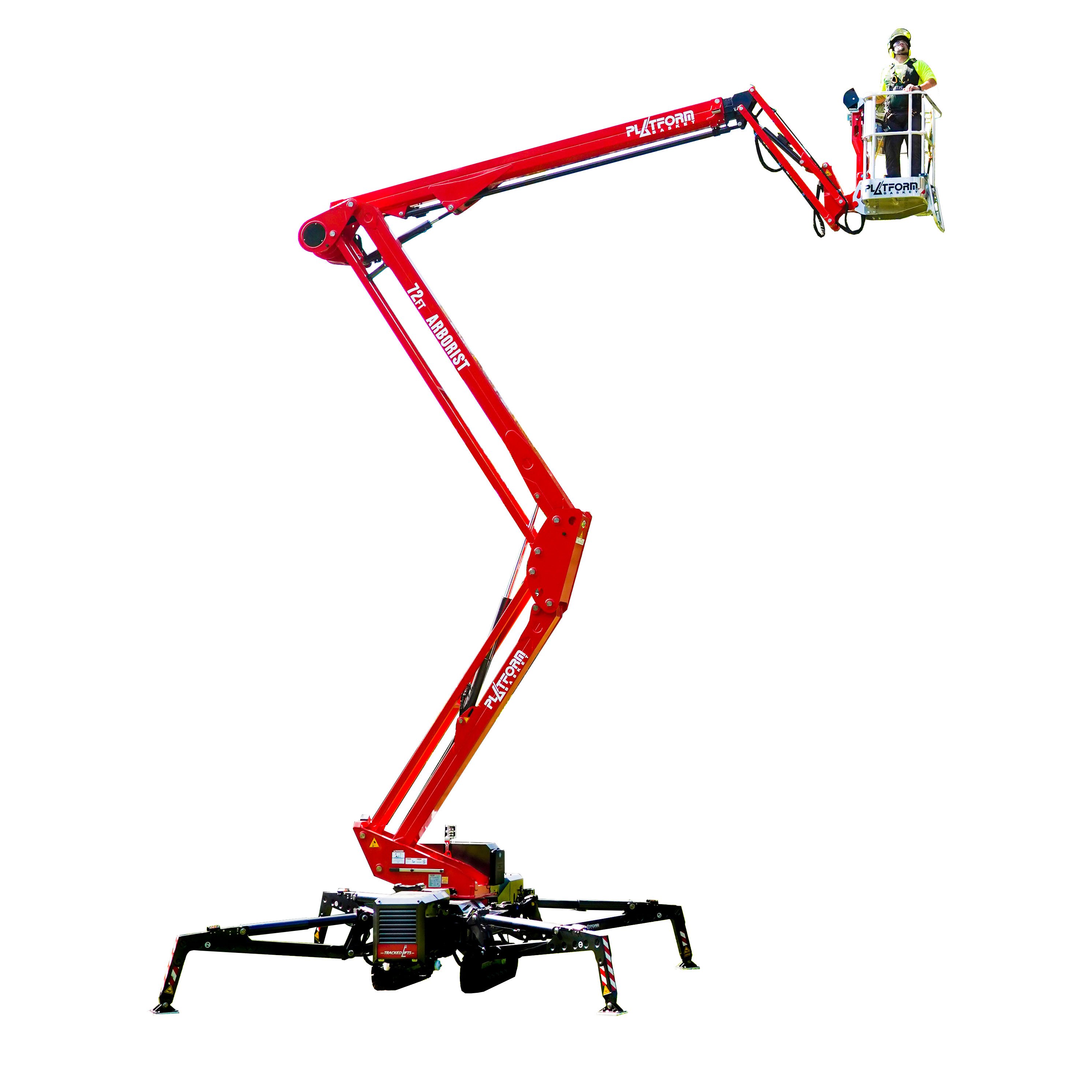 Product Overview
The 72ft Arborist by Arborists is the most ruggedized tracked spider lift on the market, as it is vastly simplified for the extreme rigors of tree work and all-weather/all-terrain operations.
​​Tracked Lifts worked with Platform Basket to design the 72ft Arborist by Arborists with all hydraulic systems, motor, and electrical components fully armored with the intent of increasing the safety of operators and reducing the risk of damage during tree work.
This portable lift for tree trimming is an ultra-capable general use machine, offering simplicity and unsurpassed reliability with live-hydraulic redundancies to provide the utmost safety and dependability for operators.
Ultra-light and easy to transport, it is powered by a Kubota Diesel engine coupled with a 12V DC emergency lowering system. This tracked man lift also features a simplified outrigger spread with one position to eliminate the complex computerized load management system while still allowing for full boom articulation at its max load.
Features
Heavy duty shield package

Variable-width undercarriage

Air, water, 110V in the basket

12V electrical emergency decent system

Full weight, full side reach

Super light and easy to transport

Easy access to any maintenance component

Simple but precise in use
Specifications
Brochure
Chart
Specifications
Specifications
Max. outreach
34' (at 300 lbs)
Basket size
2'3" x 1'11" x 3'7" (1-man basket interior)
Turret rotation
+ / - 180°
Traveling length
20'7" (19'3" without basket)
Traveling height
6'9" (narrow mode) / 7'1" (wide mode)
Traveling width
34.5'' (narrow mode) / 44" (wide mode)
Operational width
Outrigger spread - 14'7" x 14'7"
Battery
12V emergency descent system
Diesel engine
Kubota Diesel, 15HP
Gradability, max. across slope up
31% (17°)
Gradability, max. up and down slope
29% (16°)
Deployment ability on slopes up to
31% (17°)
Brochure

Chart