Back To Products
OMMELIFT 3710
Working Height:

121'4"

Outreach:

44'9"

Width:

44"

Weight:12,566 lbs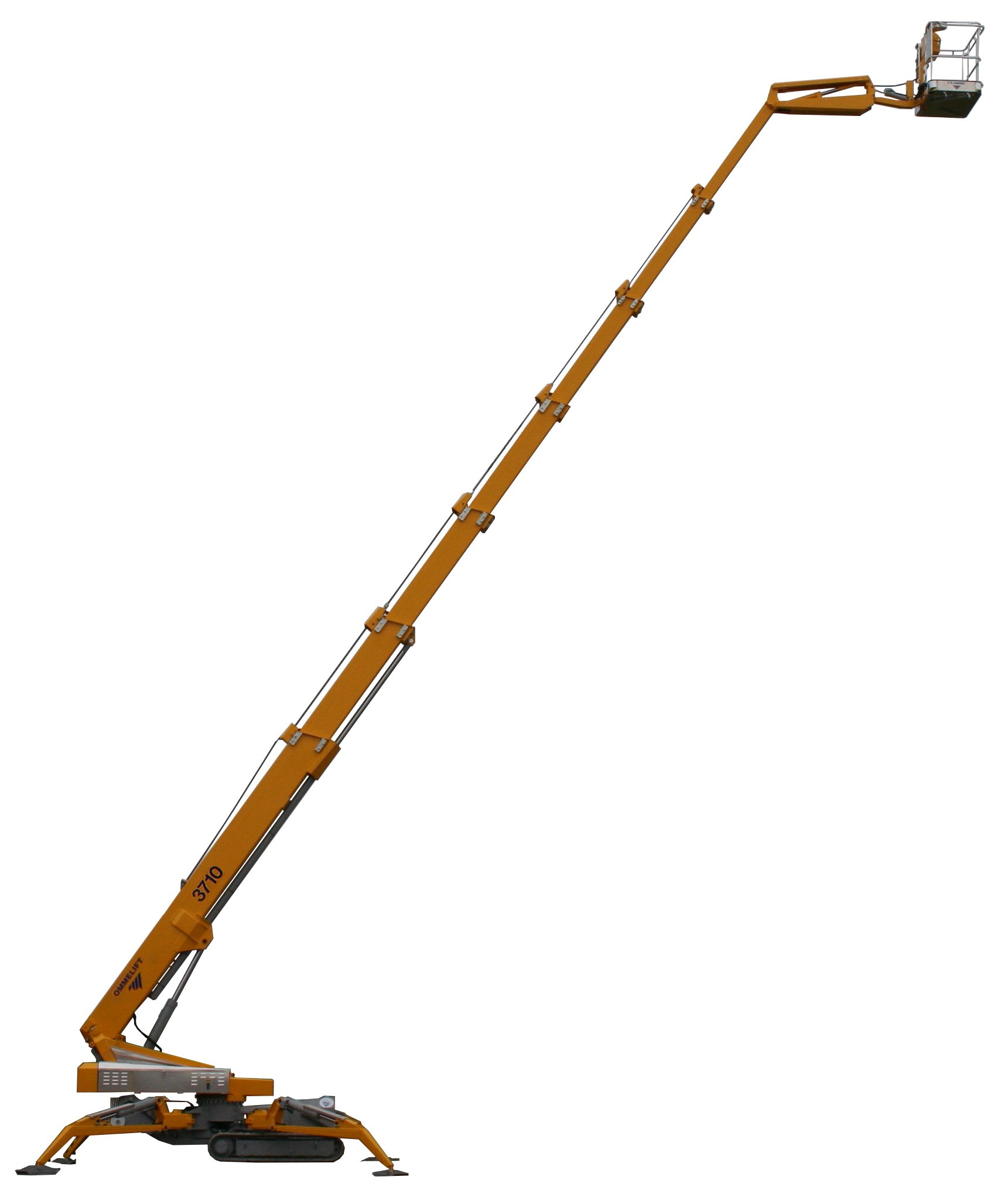 Product Overview
The Tracked Lifts OMME 3710 RJ is designed to traverse soft, muddy or hilly terrain while the crawler chassis disperses the machine's weight of approximately 12,126 lbs evenly when traveling on delicate surfaces like pavements, lawns, marble or similar.
The rapid 2-gear undercarriage is quickly in position and the boom system takes a 550lbs basket load to maximum height in less than 3 minutes. The outreach is limited through the load cell monitoring system at approximately 46'6''. A 130° fly-jib facilitates working up and over obstacles and the +/-41° basket turn enables operation in narrow and awkward places.
Up to 30% set up ability provides operation on uneven terrain where self-propelled booms are unfit to work due to steep inclines. Compact dimensions allow access into tight areas. The detachable basket provides reduced length and increased maneuverability. The 4'11'' width can be retracted hydraulically to only 3'9''.
Features
Articulating Riser

Stick Boom Advantage

Stabilizer Indicators Inform Safe Set-up

Ability to Lift the Boom and the Jib While Travelling

Flush Mounted Basket on Jib

Detachable Basket with Casters

Telescopic Sections on Rollers

Telescopic Boom Cylinder Situated Underneath Main Boom

Large and Grease Free Steel Boom Sections

Permanently Fixed, Large Bearing-Area Stabilizer Foot Plates

Slide Hinged with Purpose Designed Anti-Scratch Boards

Robustly Built

Extensively Shielded

Power Outlet in Basket

Hatch for easy cleaning
Specifications
Brochure
Chart
Specifications
Specifications
Max. working height
121'4"
Max. outreach
44'9" (at 176lbs)
Basket size
2'8" x 2'6" x 3'7" (1-man basket interior)
Basket rotation
+ / - 41°
Turret rotation
+ / - 355°
Traveling length
26'7" (24'6" without basket)
Traveling width
3'8" (narrow mode) / 4'11" (wide mode)
Operational width
Outrigger spread - 17'5" X 17'5" wide position / 21'10" x 10'6" narrow position
Diesel engine
14kW / 18.8HP
Gradability, max. across slope up
35% (19.3°)
Gradability, max. up and down slope
35% (19.3°)
Deployment ability on slopes up to
30% (16.7°)
Power Pack
True Hybrid System Battery / Diesel Power
Brochure

Chart