Whether your business needs tracked lifts for tree trimming or facility maintenance, ensuring your workers are safe while completing their job is essential. If the lift your workers use is unsafe or unstable, those hazards can result in accidents ranging from minor cuts and bruises to more serious falls. When you choose Tracked Lifts for your tree care or building and facility maintenance needs, you have access to a line of safe lifts that enable workers to access a range of heights.
How Tracked Lifts Enhance Safety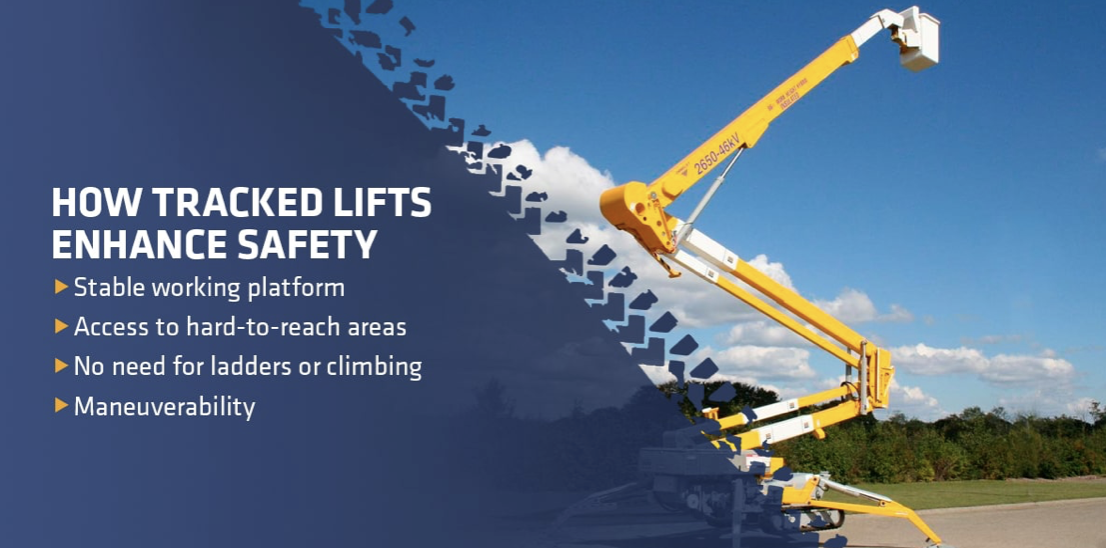 As a company, we strive to provide customers with safe, reliable, and versatile lifts that allow employees to complete tasks safely while maintaining high productivity levels. Some of the ways our lifts aid in accident prevention are:
Stable working platform: We know that when our customers take their tracked lift out to a job site, they can be faced with uneven, sloped terrains that are a pain to deal with when using traditional lift equipment. When using a tracked lift, you can be sure that your employees are secured thanks to our equipment's outriggers and stable working platform. In fact, our lifts feature deployment ability on slopes up to 40% or 21.8° which is hard to find in the mobile elevating work platform (MEWP) industry. The days of wobbles and worries are quickly left behind when traditional forms of lift equipment are traded for Tracked Lifts.

Access to hard-to-reach areas: Since our lifts are articulating and have industry-leading side reach capabilities, your workers no longer risk straining or extending themselves off the platform to access a specific area to perform their job. Our equipment can access a range of heights and can be maneuvered in ways that make even the toughest-to-reach locations easily accessible.

No need for ladders or climbing: With an aerial lift, you can get workers to multiple heights with one machine, whereas you might need several kinds of ladders to work at various heights. It's no secret that climbing can be a dangerous task for employees to take part in on the job. In fact, in 2022 alone, there were 2,143 OSHA ladder violations found and over 130,000 ladder-related ER visits! With our aerial lift equipment, your employees will have peace of mind that they are safe and can work without the worry of an accident or fall.

Maneuverability: Traditional lift equipment can be tough to move around the job site in order to get to desired locations. With Tracked Lifts, this problem turns into an afterthought. Our equipment uses rubber tracks that enable it to easily traverse over the toughest terrains. The slim structure also allows for our lifts to squeeze through fence doors and even fit through traditional door frames, making access to residential backyards and indoor facilities no problem.
Safety Features
The safety features on our lift systems enable operators to securely navigate across many different terrains and move around indoors. Some of our top safety features on each lift include:
Safety harness: Our safety harness features a secured lanyard to prevent workers from falling off the machine if they encounter a bump or unexpected movement.

Anti-tilt system: Keeping the platform stable is essential for worker safety, so our anti-tilt systems ensure your lift remains stable despite wind, uneven terrain, or worker movement on the platform.

Overload sensors: Many lifts feature an overload sensor that monitors the weight in the platform and turns off certain functions if the weight exceeds a specific capacity.
---
Learn How Tracked Lifts Can Keep Your Workers Safer
At Tracked Lifts, we optimize our equipment for tree care and building and facility maintenance applications, offering safety features specific to your job. Safety harnesses and anti-tilt systems allow your workers to remain secure at any height. To learn more about our high-performance tracked lifts and how they can enhance worker safety, we encourage you to talk to our team!