While aerial lifts are useful and offer many benefits, like increased productivity and efficiency, operators must understand how to use them properly to ensure personal safety at the job site.
Establishing a comprehensive safety checklist for aerial lifts is a great way to help prevent accidents and keep workers safe. An aerial lift safety checklist should cover all aspects of operation, including pre-use inspections, proper setup and positioning, safe entry and exit, and emergency procedures. Read on to learn how to create a safety checklist for aerial lifts.
Identify Hazards
Identifying aerial lift safety hazards and most common risks is the first step in creating a safety checklist so you know what to include. The following are major causes of aerial lift fatalities:
Falls: Lift workers should wear appropriate personal protective equipment (PPE), such as harnesses and lanyards, to protect them from falling. The lift should also have guardrails and other fall protection devices.

Electrical concerns: Electrocution is another aerial lift safety hazard that can happen if the lift comes into contact with live electrical wires. Workers must receive training on identifying electrical hazards and maintaining a safe distance from power lines.

Tip-overs: Tip-overs and collapses are also potential hazards. These accidents can happen if the lift is overloaded or operating on uneven or unstable ground. Workers can prevent tip-overs by following the lift manufacturer's operating instructions and making sure the lift rests on level ground.
The Occupational Safety and Health Administration (OSHA) and the American National Standards Institute (ANSI) have guidelines in place to help aerial lift workers prevent these hazards, so it's a good idea to familiarize yourself with their expertise.
OSHA's regulations are legally-binding rules that employers, users, and operators must follow, while ANSI develops aerial lift industry standards for design and usage.
Develop Safety Procedures
Developing aerial lift safety procedures is important to mitigate the risks listed above and prevent accidents and injuries.
All workers operating or working on a high-performing aerial lift should receive proper training on its use and safety procedures. Training should teach them how to manage the controls, perform emergency shut-offs, and respond to potential hazards.
Develop safe work practices that address each of the aerial lift hazards identified above. This may include wearing PPE, inspecting the lift before use, and following the manufacturer's safe operating procedures.
Establishing communication protocols between ground workers and lift workers is another important consideration. You can use radios or agreed-upon hand signals to communicate.
Regular inspections and maintenance can significantly affect aerial lift safety. Create an aerial lift maintenance checklist and incorporate it into the lift's schedule to ensure it stays in good working condition. Contact us to learn our maintenance recommendations for a specific model.
Create the Safety Checklist
Now that you understand common hazards associated with aerial lifts and the importance of developing safety procedures, it's time to create a safety checklist. Each aerial lift is different, so you'll want to make a list appropriate for your specific make and model. Your checklist should be clear and easy to understand, leaving no room for misinterpretation.
OSHA and ANSI have specific requirements for what to include in a safety checklist. Here's an idea of what yours may look like:
Before starting work, inspect the aerial lift to identify damage or defects, including the controls, guardrails, safety harnesses, and other components.

Ensure the area around the lift is clear of any obstacles or hazards, including power lines or overhead obstructions that could contact the lift.

Verify the lift's weight capacity to avoid overloading it.

Ensure the ground below the lift is stable and level.

Ensure that outrigger pads are used under each stabilizer.

Wear appropriate PPE, such as hard hats and nonslip footwear.

Wear a secure harness or lanyard before starting the lift.

Avoid standing on the guardrails or using the lift for any purpose other than its intended use.

Avoid operating the lift in high winds or inclement weather conditions.

Lower the lift slowly and carefully to avoid sudden drops.

If working near powerlines, ensure you are using an appropriate 46kV insulated machine.

Follow an inspection and maintenance schedule to keep the lift in good working order.
Put the Checklist to Use
It's not enough to simply create an aerial lift safety checklist — you have to put it to use and ensure every operator follows it, even those with prior operating experience. Remind your coworkers and employees that following every step of the list is vital to mitigating risks and preventing accidents and injuries.
Use your checklist to inspect the condition of your aerial lift before each use, paying close attention to the condition of the platform, guardrails, and safety harnesses. Record any defects or issues you find on the checklist, and address them before using the lift.
Retaining the completed checklists for future reference and as proof of compliance with safety regulations is a good practice.
By using an aerial lift safety checklist, workers can systematically inspect the equipment before each use, record any discrepancies identified, and take appropriate action to address them before using the lift. Every operator is responsible for following the list accurately to minimize the risk of accidents or injuries and ensure compliance with safety regulations.
OSHA has a set of standards for aerial lift safety that lay out the minimum safety procedures aerial lift operators should practice. These standards help workers keep safety a priority day after day and empower them to complete their jobs in the safest way possible. OSHA and ANSI also offer classes aerial lift workers can take to obtain a safe use certification.
Safety Meetings and List Maintenance
As work sites and machinery change, so should your list. Keep it up to date by incorporating things like new working conditions, machine usage, and the presence of any replacement parts on the lift. Review the list with employees after each change. Have regular meetings with employees to check in on the safety guidelines and seek their input as you revise the list to include any special requirements.
Every new employee should undergo a training program to ensure they know how to safely operate the aerial lift. The training should also review the safety checklist and the importance of adhering to it each time before using the aerial lift.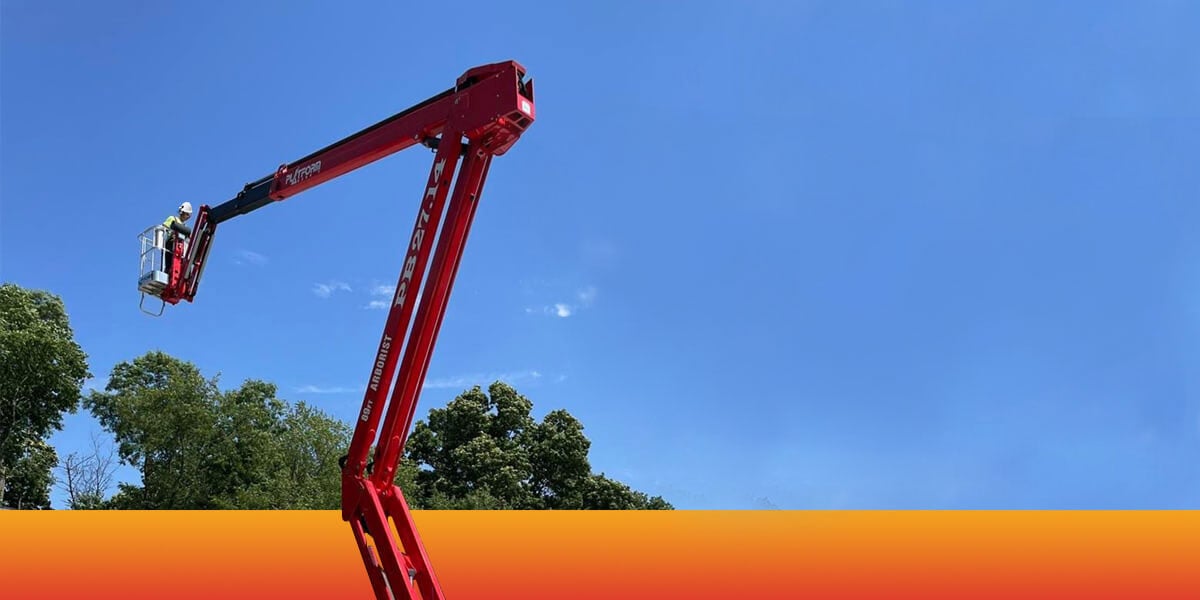 Tracked Lifts Values Aerial Lift Safety
At Tracked Lifts, our mission is to provide safe, reliable, and versatile ways for you to accomplish your aerial pursuits. With over 15 years of industry experience, you can count on us for the tools you need to do the job safely. Get in contact with our experts today to learn more about our high-performing aerial lifts and schedule a demo!
---